Best and Worst Dressed At the Golden Globes
On January 5, 2020, the Golden Globes took place and actors and actress's showed up with their best formal looks.
Scarlett Johansson wore a red floor length dress with extra fabric in the back of the dress acting as a huge bow. I loved her look, she had this huge dress with a long train but it was still very form fitting. 
Taylor Swift also appeared at the globes being that of her role in the new musical movie "Cats." She wore a navy dress with yellow patterned flowers across the whole gown. Although her hair and makeup were beautiful, I did not like this dress it was to busy with the flowers and it seemed out of place.
Awkwafina wore a suit-dress. The top was a buttoned down shirt like for a tux but with a ruffly collar. The bottom was a straight a line dress. She had a great night being that she is the first Asian women to win a golden globe 
I surprisingly loved this dress, although it's odd and very different, it wasn't a plain black dress. It was uniquely her spin on the classic staple everyone is so used to. 
Billy Porter famously known for wowing award shows with his eccentric pieces did not disappoint. 
He wore a white suit with a feather train attached. This suit was amazing to me. Although it is odd, it like awkwafina's dress was extremely different and wasn't a boring, plain, three pieces suit. 
Soarise Ronan wore a beautiful diamond a line dress. The fabric is amazing because it's made of all diamonds. 
The dress itself is beautiful in my opinion but I felt it looked odd on her body, almost as if it didn't fit her correctly. She probably was going for that loose look like if the fabric just fell and dropped on her body but it wasn't executed well.
Matt Bomer wore a deep navy suit with a coat with buttons on the side. I loved his suit because it was classic but didn't feel boring and plain because of the color.
Jennifer Lopez wore a white gown with a gold top and a green accented bow in the front. I'd did not like this dress at all, it was extremely busy with the bow, three colors and accessories.
The bow is hiding her dress and body, I felt if it had just been the white dress with the gold top it would have been much more beautiful. 
Everyone had amazing outfits because of the confidence that they all carried while wearing them. 
About the Writer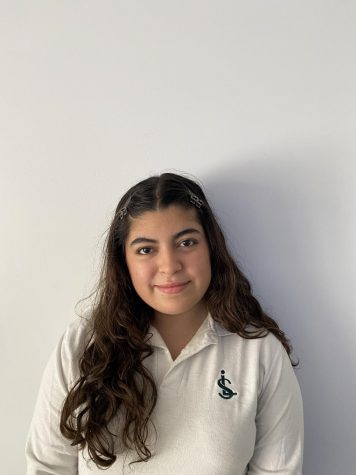 Sophia Rabelo, Writer



Sophia Rabelo is a senior at ILS this year and is enrolled in Journalism II. Sophia enjoys participating in the school's drama program and enjoys covering its events and news.