Athlete Spotlight: Lionettes Kathleen Garcia, Andrea Lavista & Ella Perez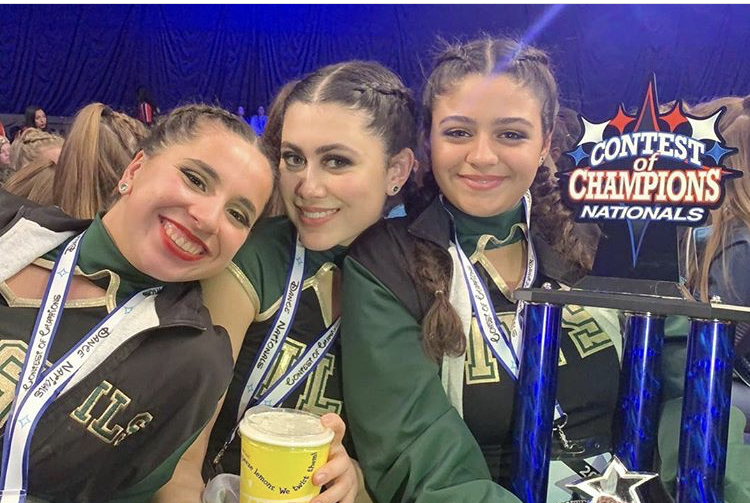 On Wednesday, the ILS Instagram account continued its weekly Athletic Spotlights by highlighting three members of the dance team. Seniors Kathleen Garcia, Andrea Lavista and Ella Perez were honored for their time with the Lionettes.
These three dancers have been an important part to the evolution of Immaculata-La Salle's dance program. As seniors and leaders, the trio helped spearhead the development of the troupe and remained integral in the team's success.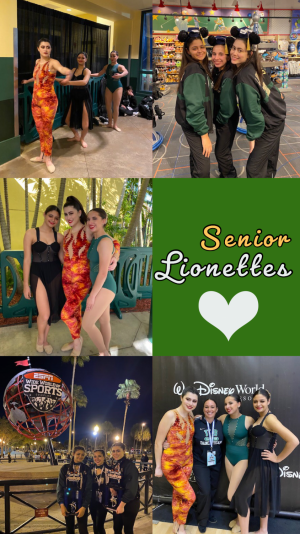 "The dance team for me has become a sisterhood who I look to for advice and friendship," said Ella Perez.
Lavista echoed those sentiments. "They have become a second family to me."
But the good times of their senior year were not the only experiences these three had with the program.
"We have definitely gone through many challenges throughout the years," Perez said.
Those challenges included seeing the Lionettes bottom out as underclassmen. The three witnessed their team lose its coach, its direction and its dancers. During their tenure with the team, Garcia, Lavista and Perez have witnessed a great deal of change.
Lavista admitted the team did not have a high standing among other programs when she joined as a freshman, and things only got worse in her sophomore year because they lost their coach. She and some of the others banded together, though, and brought the team back from the brink.
"Andrea was a true leader and played a major role on the dance team as Captain," said Mrs. Dennise de Arce, who joined the program this year as its new moderator.
"Ella is a ray of sunshine to have on the dance team," de Arce explained. "She is always cracking jokes and making us laugh even during our toughest practices during competition season."
Garcia lead by example. "Katie works hard during practices and is extremely focused," de Arce said.
The turning point for the program came this year with the addition of coach Esther Pazos. With a new head coach and new moderator, Garcia, Lavista and Perez were able to partake in the renaissance of the Lionettes dance program.
"I had the privilege to have Ella, Katie and Andrea as seniors," said Coach Pazos. "They work and dance so beautifully together and play up one another strengths."
The new direction for the program came with a renewed focus and stricter discipline.
"We've had a new coach every year," Perez explained, "but this year we conquered [ challenges] with the help of our amazing new coach. She brought us knowledge, intensity and skills about dance that we never knew."
"At first, it was hard because the stretches and workouts were difficult, but as time went by and with her guidance we pulled though not only as better dancers but as better people," Perez continued. "I have learned a lot from her and the team that I will carry in my heart for the rest of my life."
With the new leadership, the seniors saw significant gains for the first time dancing at ILS.
Lavista called the coaches "amazing," and thanked them for "sacrificing their time to better improve the team and every girl individually."
Garcia lamented not having her entire high school career under the tutelage of Pazos and the other coaches. "I wish I could turn back time to freshman year just so I could spend four more years with them."
The hard work and dedication the seniors experienced with the new coaching staff and moderator allowed for the program's first true successes in their four-year tenure. By pushing one another in practice, and under the guidance of their coaches, the seniors all blossomed as performers and leaders.
Each one had solo performances, in addition to their other routines.
"They began to work hard during the year including Summer of 2019," de Arce said of the senior solos. "They not only practiced at school but also at Roxy Studio for privates. I believe that it helped them bring out confidence and the love for dance throughout their performances."
Coach Pazos challenged the seniors not only to push themselves with these solos, but to also take on the mantle of leadership with the team.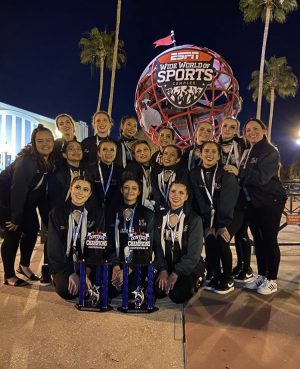 "They really had to carry the team," Pazos said. "And they did!"
"Each one had specific skills that needed improvement and they took all criticism and worked to improve those skills without any hesitation," de Arce explained. "There were practices that were more than four hours in a day, and they were there throughout all those intense practices with a smile on their face."
That leadership did not go unnoticed by their teammates.
"As seniors, they were a great example of what discipline and responsibility are and they also showed how to have fun while being focused," said fellow Lionette, junior Priscilla Heredia. "They also showed me how to set an example within dance and school."
"They were the most motivated I had ever seen them, said Janelys Gonzalez an assistant coach and a former Lionette herself. "Not only were they pushing each other but they also pushed the team to get into the best shape for competition. Each senior performed their own solos and competed against the best of the best."
And the solos were a success. Perez performed a solo for the first time and received amazing reviews from judges. Garcia also received great remarks not only in her dancing but also her costume.
Lavista received the highest marks on the team despite changing her solo the week before competition.
All of this work built toward the program's participation in Nationals.
At Regionals, the team performed two separate dances and placed sixth in the varsity small division for both. But one month later, the Lionettes, led by their three seniors, elevated their performances to new highs.
At the Contest of Champions National Competition, the Lionettes took home third place in the Novelty and Open category.
This national championship is the top achievement for dancers within the United States. There were 107 schools and more than 2000 dancers participating, and only the top-3 were awarded for each category.
"Not only did they do well enough to please their families and themselves," Coach Pazos said, "they were recognized by an incredible team of professional judges who saw dance after dance over three days and decided them worthy of a National third place win."
Garcia, Lavista and Perez poured blood, sweat and tears into the development of this dance program, and at the Contest of Champions, they brought home two trophies.
"The hard work pays off!" Garcia exclaimed. "Yes, there are long hours. Yes, it can feel like it's taking up a lot of your time, but if it is something you love—keep on going with it because nothing compares that feeling of knowing everything you did was worth it."
Coach Pazos glowed after placing at Nationals as well. "They all have come together and given of themselves undeniably and unselfishly in order to make this possible."
Their successes legitimized all of the hard work from the dancers and the seniors in particular.
"The girls worked extremely hard to place and we are so proud of all their hard work and dedication these past months," said ILS Athletic Director Nick Fernandez. "I can truly say that they danced with their heart and their feet just followed! It's been over five years that the girls place in this competition!"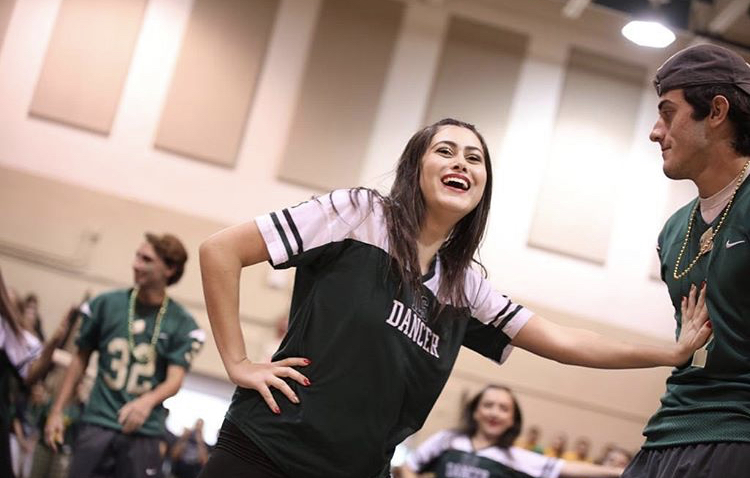 The three seniors saw their work build to this point, but there were fun and funny moments along the way as well. Among them were a Makeup class at Sephora and teaching the football team eight counts to dance for a pep rally.
"They're football players, not dancers, except for Yani," Perez said. "Us dancers could not stop laughing because for us the steps are easy, but to the boys it's extremely hard."
Even the coaches and moderators saw the lighter side of the team.
"Andrea is just Andrea. She can be misread but she is extremely funny and straightforward. Have you seen how many faces she can make in one conversation? You never know what facial expression you will get from her. Many laughs we had during Contest of Champions in Orlando because of her facial expressions," said Mrs. de Arce.
The development of the program will now have to continue without these three stellar performers. But the seniors do have words of encouragement for the returning Lionettes.
"Do not be discouraged if you cannot get a step or move right away. Dance is about learning and practicing, eventually with practice you will get better and hopefully have a new dance skill. Do not be afraid to challenge yourself," Perez said. "Finally, don't forget to have fun. Dance is not only about winning; it is about trying your very best and making the most of each moment."
Lavista, who has been dancing since age five, said: "You just need determination and the drive to get better for yourself and the team." She also urged her teammates to "help each other grow as dancers and people."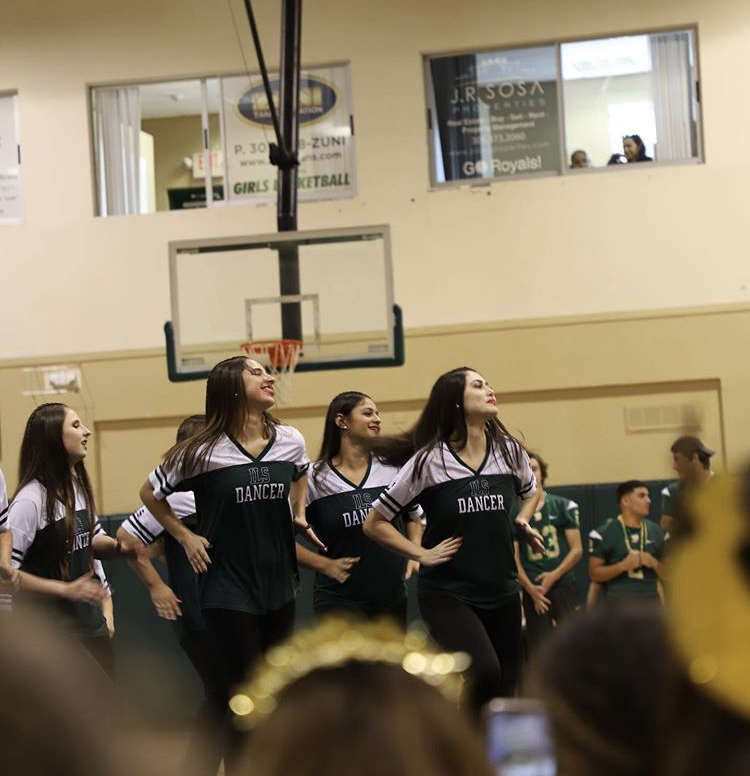 These three seniors will have a lasting effect on the Lionettes team and the dance program as a whole.
"I got to see them work united and it was a beautiful thing to see them mature and nurture each other right before competing against each other," said Coach Pazos.
"Being the assistant coach has given me the opportunity to see these three girls flourish into wonderful young ladies" said Gonzalez.
As performers and people, Lavista, Garcia and Perez have come a long way as Lionettes. They've helped rebuild and transform a program that was once on life-support. From the ground up, they've built the Lionettes into champions.
"Being an athlete in ILS has definitely made my high school career more enjoyable," said Perez. Her teammate will be "my sisters for life. They are the ones who I know will always have my back, challenge me, and never give up on me."
Garcia credits the Lionettes with helping her grow as a person. "I built a lot of skills throughout my years in the program such as leadership, determination, and patience just to name a few. I hold on to the memories I've made at practice, at pep rallies, on the field and on stage. I would not be the person I am today without them."
Lavista called her senior year one to remember. She admits the dance team has taught her patience, fellowship and problem-solving skills.
"This year, as a senior and captain of the dance team my thoughts go back to that first day when Tita approached me and told me about her dream. I now know my worth and have learned that through hard work and dedication successes can be achieved."