ILS Tennis Team preview
The Ils Tennis Team is preparing for a successful season
The ILS Tennis season is approaching and Coach Rydborn is preparing both his boys and girls team for a fresh season.
At the beginning of the COVID-19 outbreak last year, the ILS tennis team had to put a halt to their season early, resulting in a very unexpected reaction. This year Coach Rydborn is excited to see what his team is able to produce on the court and the year long wait to finish what they have started.
Since the previous season a year ago, the girls have made very few changes to their team. The majority of the top players remain on the team with a few new additions. They did lose a couple of talented seniors, though, in Ariana Perez and Gabi Caputo. The boys team, however, had an increase of talented freshman join, ready to prove their worthiness.
Unfortunately, due to COVID once again, the team had to reschedule their first match versus Saint Brendan High School last week. So right now there first game is expected to take place at Coral Shores on February 22nd.
Due to the postponement Coach Rydborn plans on rescheduling a prior match so the team doesn't lose there focus.
In preparation for their match, the team has been practicing out at Crandon Park on Key Biscayne three times a week.
"I was worried with the kids coming from virtual school that they may be lacking motivation, but that cant be said. If they can keep this up throughout the season, we should see some good results," said Coach Rydborn.
One of the most valuable and important aspect of tennis is that tennis is a team sport. Although the matches may be individual, the wins come on a team basis.
"Once the kids realize this and start training as a team, working with one another, helping them figure out their weakness, seeing what areas are their strengths, players start to develop better point development," said Rydborn. "It's easy to have the technique to hot the right shots, but if you cant put that technique into crafting a point against your opponent, it's only going to get you so far."
With COVID still in effect, the team is following protocols in order to keep them safe during practices and matches. Each student must be wearing masks at all times and only 4 players are allowed to each court. Students must also fill in a health questionnaire in order to practice.
This season is looking very sharp under the coaching of Coach Rydborn. With practice and motivation the team may be able to win districts and excel to regionals as long as everyone remains healthy and follows protocol.
About the Writer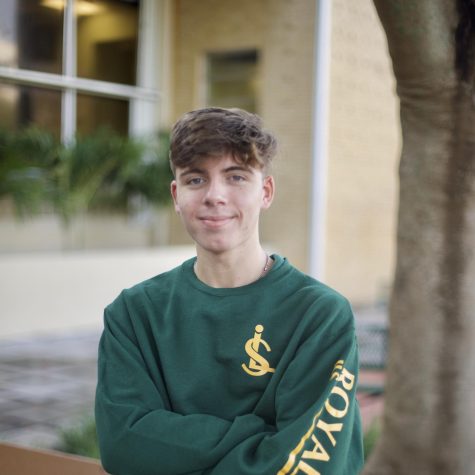 Ryan Desalle, Writer



Ryan Desalle is a senior at ILS and is enrolled in Journalism 2. Ryan enjoys traveling , fishing , and plans on studying criminal justice in college. Ryan plans on covering on campus life and news...