6 Seniors Sign Letters Of Intent To Play In College
Last Wednesday, May 20th, the ILS athletic department came together on Zoom to celebrate the six senior student-athletes signing national letters of intent to play their sports at the collegiate level. Seniors' Anabel Toledo, Jessica Saavedra, Dominique Vidal, Zachary Barrios, Justin Quintina, and Daniel Reyes all put pen to paper as they'll move onto the next step of their athletic careers.
"I can't say enough about all the hard work you guys put in," said Head Athletic Director Nicholas Fernandez.
Toledo has been one of the most productive players in program history, as she's been on one of the All-Dade teams every year since her freshman year when she was an Honorable Mention. The four-year starter tallied 36 goals throughout her ILS career, which is the most in a four-year stretch for the program since Karin Santin (Class of 2017) scored 58. Playing both forward and midfield, she notched 45 assists, which is more than Santin, Kiki Maribona (Class of 2019), or Stephanie Cuan (Class of 2019).
As a junior, Toledo earned her second straight All-Second Team selection, as she played a vital role for the ILS girls soccer team's district championship win. As a senior, she received All-Third team honors after recording a team-high six assists. She finished third on the team with three goals.
"I just want to say thank you for believing in me and showing me what it takes to be an amazing player," said Toledo on Zoom.
A duo-sport athlete, Toledo holds the school track records in the 400-meter (1:01:86), 200-meter (25.74), and 100-meter races (12.42).
She will continue to play soccer in college at Barry University. In 2019, Barry's women's soccer team finished with a 9-7 record. The program has won three NCAA Division II championships.
Saavedra was a four-year player at ILS, playing a key role in the team's 2018-19 district title while earning multiple all-county selections. The crafty forward scored 30 goals and registered 18 assists as a member of the Lady Royal Lions soccer team.
As a junior, Saavedra led the team and set her single-season career-high in goals with 11. This season, she added five more to her resume.
"I just want to say thank you guys for being my family for the past four years and pushing me to do my best and to strive to be the best player I can," Saavedra said.
Saavedra signed to play soccer at Emerson College in Massachusetts. In 2019, Emerson's record was 10-6-3, and Saavedra will join an incoming freshman group of six other soccer players.
Vidal was a force to be reckoned with for the ILS football team this season, registering a team-high 53 tackles, including a team-leading 15.5 sacks. The 5-foot-11, 215-pound outside linebacker brought misery to offensive lines around Miami-Dade County.
"I want to thank the coaches for pushing me and always asking for the best from me," Vidal said.
As a senior, Vidal set new single-game career high's in sacks with four against both North Broward Prep and King's Academy. He helped the ILS defense register three opponent shutouts this season, earning him an Honorable Mention on the Miami Herald's All-Dade teams.
Vidal's football career will continue at Sewanee University in Tennessee.
Barrios was a two-sport star at ILS, excelling at both football and baseball.
During his senior season, he caught 26 passes for 365 yards (14 yards per catch) and five touchdowns in nine games played. His best performance of the year came in a 25-0 win over Citi Christian Academy in which the 6-foot-4 wide receiver caught two passes for two touchdowns, totaling 80 yards.
"Coach [Helder] Valle, you gave me the best chance to succeed on offense and you gave me my best year offensively and I appreciate you for that," said Barrios.
Over his four-years on varsity, Barrios played in 27 games. He finished his Royal Lions career with 688 receiving yards and 6 touchdowns.
He'll continue playing football at St. Thomas University, where he'll join fellow teammate, Francis Coronado. The NAIA team went 8-2 in its first season.
Quintana has been one of the most hard-working and efficient Royal Lions baseball players over the last three seasons, posting a .358 career batting average with 38 RBI, seven doubles, and two home runs. His versatility has allowed him to play in the outfield and throw on the mound for ILS.
As a junior, Quintana hit .482 with a .574 on-base and .661 slugging percentage. He registered 22 RBI, four doubles and two home runs. Before the season was postponed due to the coronavirus, he hit .482 with a .574 on-base and .661 slugging percentage during his senior campaign. Quintana also impressed as a pitcher, in 2020, as he started two games and finished with a 1-0 record while recording 10 strikeouts, and a 1.56 ERA over 9.0 innings pitched. As a junior, Quintana registered three saves and three wins, with 19 strikeouts over 23.1 innings pitched.
"I just want to thank Coach Nate [Gomez] and all the other coaches for everything they've done for me and believing in me," said Quintana.
He'll join an extremely talented squad at St. Thomas University, which reached the NAIA World Series for the seventh time in program history in 2019, advancing to the National Championship, finishing as Runner-Ups for the second time (2015). The Bobcats collected a 49-15 record last season.
Reyes will forever be remembered at ILS for his remarkable work ethic, which Head ILS Baseball Coach Nathan Gomez says is unlike he has ever seen. The countless hours of hard work helped him improve his batting averages significantly. As a junior, he hit .250 with a .351 on-base and .271 slugging percentage in 48 at-bats. However, through 18 at-bats, his batting average improved to .380 with a .476 on-base, and a .500 slugging average.
"I just want to thank all the players for pushing me and helping me get better," said Reyes.
Reyes's path to success is just getting started, as he'll have an opportunity to leave his mark at Montgomery College. The Raptors finished 19-18 during the 2018-19 season and were 5-8 before their spring season was canceled.
Back in February, ILS had seniors' Francis Coronado (St Thomas), Lafonso Ruffin Jr. (Davenport), and Kamani Turner (Florida Golf Coast) sign their LOI's in the Don Bosco Arena with family and friends present.
About the Writer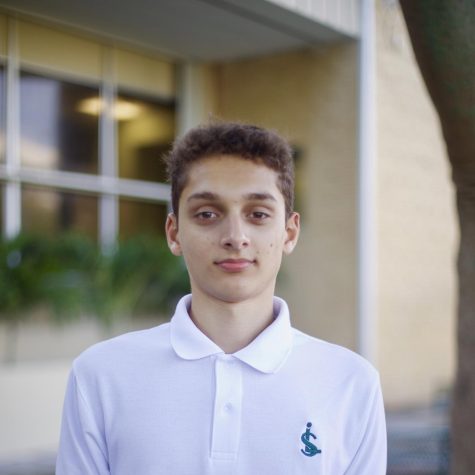 Anthony Yero, Co-Editor-in-Chief



Anthony Yero is a senior at ILS and is enrolled in Journalism 3. Anthony enjoys covering the Sports beat for the "Royal Courier" and looks forward to a career in journalism.