Food Review: Amigo Grill & Co.
Tucked away on the corner of Galiano Street and Miracle Mile, the Amigo Grill & Co. Casual Steakhouse is latest place to go in Coral Gables for a great steak.
The homey steakhouse has been open on the east end of Miracle Mile for nine months and serves up American and South American steak dishes and barbecue. They've relied on foot traffic on the pedestrian heavy stretch of Coral Way and word-of-mouth as a new restaurant, but it's the food that's doing the talking.
Amigo Grill & Co. sports a quaint, rustic dining area with a number of two-top tables which can be rearranged for larger parties, as well as a long bar where solo diners on their lunch break can enjoy a tasty steak or grilled sandwich.
The restaurant has fashioned its menu around its steak and sausage offerings. The menu features piranha, flap meat, skirt, tomahawk, t-bone, and porterhouse steaks, all prepared to the diner's specifications and taste.
The menu sports 10 different sandwiches or parrillas, including The Big Mixer, a picanha beef, grilled chicken, pork and sausage sandwich, and The Rooster, a grilled chicken sandwich served on house-made bread and topped with their signature AG sauce.
Each dish comes with a side of steak fries and a sauce (chimichurri, AG, or hot sauce), and each steak dish is also served with either chorizo or blood sausage.
The appetizers offer a wide variety of Latin favorites, including Argentinian beef or chicken empanadas, delicious Brazilian pork sausage, Chistorra (Spanish sausage) served with sunny side up eggs over steak fries, a Spanish omelet, Venezuelan tequeños and Asado de Tira (beef short ribs) served with chimichurri-style Spanish mojito sauce.
These savory starters moisten any diner's palate.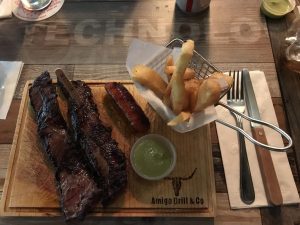 Amigo Grill & Co's signature dish might be the Skirt Steak Prime, a 12 ounce, tender cut of meat cooked to order and served with chorizo or morcilla (blood sausage). The steak is served on a treated plank of cedar wood with a basket of golden brown steak fries and a sauce.
Cooked at medium, the steak remains fork tender and succulent coming from the kitchen, featuring bits of char with hints of smoke from the grill. The chorizo's savory flavor serves as a spicy compliment to the rich butteriness of the beef.
For those who prefer chicken, Amigo Grill & Co. provides a number of different options.
The Chicken Skewer is a simply seasoned grilled chicken served with steak fries and sauce. The Rooster sandwich features shredded grilled chicken tucked in a flaky homemade roll and topped with their green AG sauce, a tasty garlic aioli.
The dessert offerings include a caramel flan, mini alfajores (delicate cookies filled with dulce de leche or Nutella) and sweet Marquesa de Nutella, a cold Venezuelan dish of layered crackers and delicious cream of condensed milk, caramel and Nutella.
Amigo Grill & Co Causal Steakhouse is a delicious lunch and dinner spot in the Gables. Reasonably priced, a family of four can enjoy a dinner for under $100 dollars.
Location: 98 Miracle Mile, Coral Gables, FL 33134
Website: amigogrillandco.com