ILS Cross Country: Girls Shine In Back-To-Back Meets
It's been an eventful last couple of days for Immaculata-La Salle's Cross Country team. As the season progress, adjustments and improvements continue to be reached, as the Varsity Girls members seem ready for the biggest stage ahead: district and regional playoffs.
First, they traveled to Naples and competed at the Celtic Invitation last Friday.
Senior Victoria Morera led the girls with a 12th place finish out of 149 participants, garnering a season-best time of 21:38. Fellow senior Isabella Juara notched a personal best of 23:13, as sophomore Alessia Quiros stood beside her with a score of 23:17. Anna Zorgniotti continued making strides to her speed, picking up a personal best of 23:52. Freshman Mariam Osman finished soon after, with a time of 25:05.
The team ultimately finished in 4th place.
"Last week's event started off a bit of a mess," Morera said. "Many races were delayed due to thunder. The course was fast and it was very muddy, which was difficult for some of us. But we all ran very well with a lot of motivation and confidence to complete the course as a team."
The girls were back on track Tuesday, competing at the second Pace Invitational meet, coming in first place out of 10 teams. Morera placed first out of 83 runners with a time of 21:54. Quiros improved her score from the previous meet, earning a time of 23:06, earning third overall. Zorgniotti came in eighth, thanks to her personal best time of 23:39. Juara finished ninth with a 23:46 and Osman finished at 25:16.
"Winning the race by an 800-meter distance and 2 minutes ahead of second-place is a euphoric feeling like no other," Morera said, as her senior campaign continues to show her abilities to potentially compete at the collegiate level. "Since the team started to warm up, we were very united and headstrong."
Although there's still left to go before playoff action, Morera and the girls feel extremely confident that this year will be like no other.
"Placing first gave me confidence and also proved to my team that when you put your mind to something it can be done," she said. "I'm very grateful."
Next up, the Girls' and Boys' will travel to St. Thomas University Saturday for their second-to-last meet before Districts, which commences on October 30.
About the Writer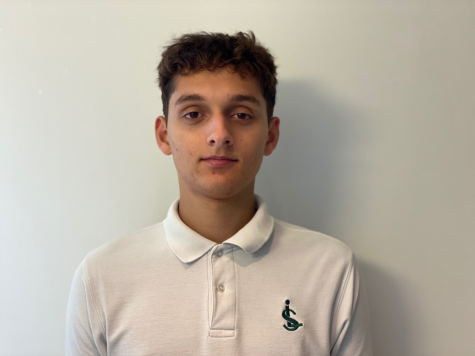 Michael Yero, Writer
Michael Yero is a Senior at ILS and is enrolled in Journalism 1. A varsity basketball player, Michael enjoys writing about sports and sharing people's stories.